Stemette (n): a female who has the capacity to go into one or more of the STEM fields - Tell a friend about Stemettes
Our 3 types of events
Stemette Hackathons
A 48 hour session for coding and creating a solution to problems, using a combination of Science, Technology, Engineering and Maths.
What's a hackathon?
We'll be collecting problems shortly before the Hackathon, so that we have a lot to work on. We'd love to have girls of all ages there, to learn, teach and help out.
Read about our hackathon: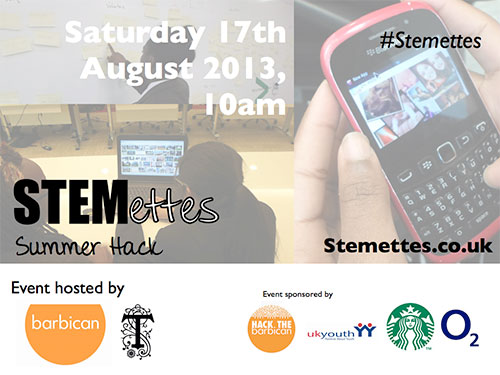 We spent a weekend at the Barbican over the weekend of 17th & 18th August - making games, mobile apps and other cool arty stuff.
Stemette Panels
We held our first
on 7th March
, near
International Women's Day
and plan to hold another 3 this year. At each panel event we'll have 8 women (and one man) from differing parts of each field, answering the questions of younger women considering STEM careers, and their mothers.
Format: Intro from a host, intros from each panel member, with their 3 top tips and then we open for Q&As, moderated by the host. Swiftly followed by networking and nibbles.
Next Panel event:

Come along to our 12th October 'Meet the Stemettes' Panel - featuring some amazing women in STEM, networking, top tips and unusual STEM journeys.
Stemette Exhibition
We'd want a series of stands and 30 minute 'taster' sessions from STEM industries, that girls of all ages can partake in. Think 3D Printers, Mini construction sets, Computer Games, Bridge building etc.
Proposed Date: 30th October and then 31st October/1st November if funding allows.
In addition to our own events, we'd like to help publicise the events of others who are supporting the cause. If you'd like to be listed below. Email us on stemettes@gmail.com